NEW J Boats J/70 - Worlds fastest growing one-design sailboat class
---
Contact JBOATS AUSTRALIA for information on the J/70 (7m /22.75 feet). J/70 is the Worlds fastest growing one-design sail boat fleet, with over 1,600 J/70's sold in the 7 years since its launch.
Come and join the Australian fleet. Have the opportunity to race with the best sailors around the world, or have fun sailing with your family and friends.

J/70 is a high performance, easy to own one-design that is exciting to sail and built to last.

Features include:
- Deck stepped Carbon mast, carbon boom, carbon retractable bowsprit
- High spec Harken fittings
- Easy to sail for all ages and genders
- Powerful cascading backstay system
- Large comfortable cockpit with open transom
- Vertical lifting keel for easy trailering and storage
- Easy to trailer and ramp launch

Contact JBOATS AUSTRALIA for details on the full spec and pricing.
---
---
Displacement
0.795 Tonnes
Keel / Ballast
Lifting keel with lead ballast. Lifts for easy trailering and storing.
Hull Material
Fibreglass/GRP
Sail Inventory
Sailmaker of your choice.
Mast / Rigging
Carbon fibre mast with single swept carbon spreaders, carbon masthead crane and mainsail luff track. Easy to raise and lower with deck step design and tabernacle system. Carbon fibre boom with internal 4:1 outhaul, mainsheet attachment point, outhaul and single reef sheaves as well as provision for reef cleat and block at inboard end. Carbon bow sprit with tack fitting.

Wire standing rigging with adjustable open body turnbuckles for shrouds. Double ended boom vang system. Running Rigging Package includes main, jib & spinnaker halyards, main sheet, spinnaker sheets, jib sheets, 18" main sheet strop, tack line, sprit control line, vang control line, backstay, traveler control lines, cunningham.
Deck Gear
2 Harken primary winches with cam cleats and 8" winch handle. Two black anodized jib T tracks with cars. 5:1 Harken mainsheet system leading to ratchet block and cam mounted on swivel base. Adjustable mainsheet traveler with 2:1 control line and cam cleats P & S. Double ended backstay adjuster purchase system leading forward to P & S cam cleats. Internal bowsprit launching system to exit aft face of the cabin trunk to cam cleat.

Harken below deck headsail furling system with control line exiting aft face of cabin house to cam cleat. Cam cleat for tack line mounted to starboard on cabin. Custom composite tiller with Ronstan tiller extension. 4 Spinnaker sheet blocks. 2 halyard lead blocks mounted at mast base. Four low height SS stanchions and two reinforced SS stern rails at transom corners.
Remarks
Call Ray at JBoats Australia (
or
) for a test sail or for further information.
---
CONTACT DETAILS
Address
1 Crystal St
Newport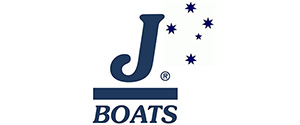 MORE BOATS FROM JBOATS AUSTRALIA