Macgregor 65 HIGHLY MODIFIED BLUEWATER YACHT
---
Price
AU $265,000
Or nearest offer
Finance
Use
Family, Cruising, Live Aboard
One of the very last ones built, this McGregor 65 is designed for worldwide cruising. The original owner of this Macgregor 65 instructed Macgregor Yachts USA to make him the strongest safest Macgregor 65 available ever. To do this Macgregor Yachts surpassed all his expectations to not only acheive American Bureau of Shippings A+ rating but to surpass it by 30%.

Mistrals first owner spent close to $500,000 on upgrades and extra equipment making this one of, if not the best 65's in the world. The hull has been strengthened with fibreglass reinforcements throughout the hull. The cockpit is completely secure and extremely well protected. The main hatch has been replaced with a very large acrylic sliding hatch giving much better light below. The fore deck hatch has been replaced with a Lewmar hatch giving much improved lighting to the front cabin. All fittings, winches, blocks, jammers, have been upgraded to a much higher standard including all the mast fittings which are now stainless rather that the original alloy. There are hand holds everywhere both inside and out. There are extra hand holds the entire length of the boat including stainless rails on both sides of the deck all the way to the bow. There is internal access to all through deck fittings and the entire through hull fittings have been upgraded to bronze. Both roller furlers are at least one size larger than standard. The colour radar has a gimballed mount giving much better performance. All sailing instruments, auto pilot and plotter have repeaters at the helm.

Victorians and Tasmanians should note! There is a full central heating system throughout the boat which can also be used to run air con through. Air Con not supplied.

No big production sailing yacht has accumulated more deep sea sailing miles. There are nearly a hundred 65's sailing all over the world. In total, these boats get more abuse, stress, pounding, rig loads and overall grief in one year than most competing types of boats get in a lifetime. They have been sailed from the factory in California to Istanbul, Yugoslavia, Spain, Ecuador, Malta, Bermuda, Germany, Holland, Hawaii, Australia and the Caribbean. One 65 sailed from Newport Beach, California to Australia in 6 weeks, on her maiden delivery voyage.

SINGLE HANDED SAILING: This is one of the easiest boats to sail single handed. The self tending jib eliminates sheet tending with each tack. All the cockpit winches and controls are near the helmsman. The main is hoisted from the cockpit on an electric winch, while reefing is done at the mast with granny bars for security. All other lines are led back to the cockpit which has 8 winches including one power winch and two very large 3 speed winches.
Single handed sailing requires a good auto pilot, so that the boat will sail itself while sails are raised, sheets are tended, and navigation and housekeeping chores are performed. Mistral has an excellent Brookes and Gatehouse hydraulic pilot.

With a couple, sailing the boat is a snap. Single handed sailing requires a bit of care on how much sail you carry and how much open space you have for raising and handling sails. These boats have been sailed thousands of miles with only one person aboard.

For a full list of build specs, upgrades, further information and to book a viewing, please contact us.

Year: 1995
Builder: Macgregor Yachts
Length: 65' - 19.81m
Beam: 12'- 3.66m
Draft: 6'- 1.8m
Displacement: 32,000lbs
Keel / Ballast: 12,000lbs (Lead), Wing Keel
Hull Material: GRP
Deck Material: GRP

Engine: New in 2013,170hp Hyundai Seasall diesel engine, V-drive gearbox with PYI drip less prop-shaft seal, Max Prop 3-blade self-feathering,
VETUS Bowthruster 55kf, CRUISING SPEED: 5- 9 knots, MAX SPEED: 11 kts under engine, RANGE: 1200 + NM at 6 knots
Engine Hours: Total engine hours 190
Engine Room: ESPAR central heating system (diesel), 240 volt water heater = heat exchanger, stainless steel tank (2003), tools, power drill, some spare parts for both engines, electrical, water-maker, plumbing & pumps, standing & running rigging, steering cables, wind vane steering, sail work, Cleaning equipment: buckets, mops, brushes, cleaning materials & polishers, lubricants
Genset: 1x 5.7KW WESTERBEKE 230vlt diesel. Hours: 148.
Fuel: 250 gallons with baffles in GRP Tank.
Water: 225 gallons in GRP Tanks, SPECTRA Water maker 52 litres an hour

Accommodation: The interior decor of the yacht is striking & reflects the modern interiors of the best custom jetliners and exotic European power boats, rather than the traditional, heavily wooded or rough fibreglass interiors of conventional sailboats. Carpeting is used throughout the boat, (currently off the boat) and easily cleaned polished fibreglass used on walls, bulkheads and ceilings to quiet the boat and soften the decor.

MASTER STATEROOM: This area offers a queen-sized bed with lee cloths, sofa also with lea cloths, a large double hanging locker, extra stainless steel hanging rack, under berth storage, drawers and vanity. The master and forward state-rooms, both equally large and comfortable, have their own private bathrooms with showers; both bathrooms have two way access.
There are 2x double cabins, 1x 2 berth bunk cabin, 2x berths in saloon, Approx 6' 3" headroom in saloon.
NOTE. Crew berths in engine compartment are now used for the engine, generator and storage. Workbench with vice mounted in saloon.

Galley: The blue Corian galley countertop is a full 8' long, with a deep double sink, New 4 burner Gas stove and oven and a huge amount of locker and drawer space. It is located in the raised area of the cabin, near the inside navigation station. Most large yachts have the galley tucked away deep in the interior, where ventilation and visibility is poor, and where the cook is totally isolated. A great deal of time is spent in and around the galley it is located where it has a great view in all directions and lots of fresh air. Its location also gives easy access to the saloon, cockpit and nav station. Hot/Cold water pressure system with central accumulator tank, Force 10,4-burner gas cooker/ oven/grill (gimballed), Microwave, Pots, pans, cutlery & crockery etc, Fresh Water back-up foot pump in galley, Salt water pump at galley sink. Fresh water filter under sink.
Refrigeration: The top loading freezer and cool box are located under the navigation station, has 9.3 cubic feet capacity, one of the largest that you will find in any comparable boat, easy to reach from the galley. Powered from both engine compressor and 230 volt compressor, in addition there is a new 12 volt fridge in the galley.

Shower: 1x deck shower and one deck wash outlet, (removed for ocean crossing)
Toilet: Shower and washbasin, and one Raritan manual toilet. 100 gallons stainless steel holding tank with macerator pump. Spare Vacu flush toilet.

Dinghy: 2010 NAB light weight RIB.
Outboard: Mercury 4hp lightweight 2-stroke outboard, outboard motor hoist.

Covers: Bimini Top with multiple side panels to make full cockpit enclosure or shaded cockpit enclosure

Ground Tackle: LEWMAR 2500 electric anchor windlass with remote
One as new main Rocna Anchor, with 300 feet of chain), 2 x Fortress aluminium "Danforth" anchors with 30 ft chain + 600 ft rode, Nylon rope and reel on deck for drogue deployment or extra anchor rode Boathooks, fenders, mooring lines

Safety Gear: WINSLOW 8-man offshore life raft, (Needs service or renew) fully equipped with supplies, survival stocks & gear, EPIRB, water-maker (manual & hydrostatic release system, needs service), MOB GPS plotter, SSB GMDSS Automated May Day with GPS coordinates, VHF: GMDSS automated May Day with GPS coordinates, 2x EPIRBs incl: 1 x GEPIRB with GPS coordinates (out of date but still tests OK), One replaced in 2010.3 x electric, 2 x manual, 1x high-volume emergency manual bilge pumps, Emergency tiller, Emergency Sailomat rudder,
Lifelines & Safety Harnesses, Gale Rider sea drogue, 5x auto-inflate (Air Force) life jackets, Many flares, 2x MOB horse shoes (need new covers) with poles, strobes & whistles, 3x floating cushions, 2x medical kit (large & small), several manual fire extinguishers, 1x fully automatic fire fighting system in engine room (needs to be rep[laced as out of date), Damage control equipment & hull repair materials, Emergency storm-shutters
Bosun's chair & mast climbing gear, Below-deck red lighting system, Hand-held long distance spotlight

Electrics: 12vlt, and 240vlt outlets including shore supply, 3 new house batteries, new 100 amp battery charger plus 3x new Gel batteries for emergency starting, windlass and bow thruster.
1x 400W New AIR MARINE Wind Generator with electronic brake (NEW in 2013), PIONEER Audio system with CD changer

Electronics
Navigation: Raised navigation centre/pilothouse mid ship offset to starboard,
Plotter - B&G Zeus and Radar - Lowrance Halo 20 Dome installed 2022.1x CARD radar detector alarm & direction finder, Radar reflector, IRIDIUM phone complete with all accessories & antennas, Mechanical Barograph & clock, SAILOMAT Windvane steering (needs servicing),
Bell horn, fog horn and deck loudspeaker, Binoculars
Sail Inventory: ULLMAN SAILS (US) fully battened offshore Mainsail in very good condition, reinforced at spreaders with three reefs.
DOYLE Mainsail (1995) in as new condition,
ULLMAN SAILS (US) offshore Genoa 120% (1995) in very good condition, ULLMAN SAILS (US) offshore Storm Jib (1995) has never been used, Hi-tech Tape drive staysail (UK) (2003) in excellent condition, DOYLE Staysail (1995) in excellent condition, Modified for furler 2009, Storm Tri-sail (UK) (2002/03) has never used, Asymmetric Spinnaker (UK) (2003) in excellent condition (red/white/blue) with sock.

Mast / Rigging: Back stay replaced in 2017. Both forestays replaced in 2018. Rest of standing rigging replaced in 2009 prior to sailing the boat to Townsville. Cutter Rig Masthead Sloop, both forestay's with HARKEN furlers, 1x Aluminium spinnaker pole with sheets & guys & guy pole, 1x extendable Carbon whisker pole for Genoa, NAVTEC hydraulic Boom vang, Navtec Hydraulic backstay tensioners, both recently refurbished. Self-tacking and regular sheets for staysail, Separate mast-track for storm tri-sail & separate halyard, All jammers & turning blocks upgraded, "DUTCHMAN" boom-brake
Lazy Jacks and boom bag for mainsail. Spare Emergency mechanical backstay tensioners.
Deck Gear: 9x self-tailing manual HARKEN winches 2 are three speeds, & 1x LEWMAR electric, Salt-water anchor chain & deck wash down, Spray hood, Deck & cockpit cushions. Stainless steel bathing ladder with swim step platform, emergency mount for outboard in case of complete loss of main engine.

Remarks: A boat that performs well is generally safer to sail. Wind speed downwind over the deck is greatly reduced. It will certainly be a lot more fun to sail. There is nothing more frustrating than the comfortable "houseboat" that is painfully slow. You can always make a fast boat go slower by reducing sail, but you can't make a slow boat sail fast. High speed, under power or sail, makes it possible to reach cruising areas that otherwise could not be reached within the time limits of a weekend or a holiday. A fast cruiser such as this can often cut the time necessary for a long passage by half, and you will go in style. Also, the yacht's high speed can reduce exposure to unfavourable weather conditions, and its speed gives it a better chance of completing a passage within the limits of weather forecasts, or of effectively making landfall to avoid impending storms. It is also a lot of fun to fly past other boats like they were tied to a rock.

The information contained within this listing has been compiled by TYBB from information provided by the owner, TYBB accepts no responsibility or liability for any errors or inaccuracies which may appear in this inventory.
---
---
Price
AU $265,000
Or nearest offer
Finance
Hull Material
Fibreglass/GRP
---
CONTACT DETAILS
Dealer
Townsville Yacht & Boat Brokerage

Address
Breakwater Marina
Mariners Dv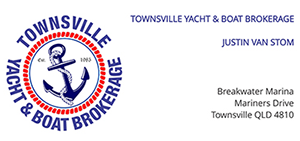 MORE BOATS FROM TOWNSVILLE YACHT & BOAT BROKERAGE