Tartan 37 Sparkman & Stephens Design
---
Use
Family, Cruising, Live Aboard
Tartan 37's are renowned worldwide for their excellent design, very good sailing ability, strong build quality and large accomodations. Exactly what you expect from the design board of the world famous Sparkman & Stephens. Almost 500 of these great bluewater cruising yachts were made.

The underbody features a skeg-hung rudder, cutaway forefoot and long fin keel and a centerboard of 1.27m up, 2.36m down. The Tartan 37 is capable of impressive, comfortable 24-hour runs. As with almost any S&S design, performance sailing to weather is excellent. Offwind performance ranks up there with the best of them and plenty of rudder contributes to great control in full-sail reaching or running situations.

The interior is traditional but larger than you would expect with 3.58m of beam. She has high-quality joinery work and excellent ventilation. The v-berth is large and comfortable. The head forward with sink. The starboard, main-cabin settee works well as a sea berth, and the port settee converts to a double. The double quarterberth aft is a perk you don't usually find in a boat this size. A great galley is to starboard and a nav station to port, just at the base of the companionway.

This Tartan 37 has been very well maintained and looked after by all including the current owners and is set up for coastal and offshore cruising. She was sailed Sydney to Cairns in 2014 and has cruised between Townsville, Cape York and the Coral Sea islands since then. Her keel-centreboard and very shallow draft makes her excellent for cruising in amongst coral reef and coastal habitats.


Recent improvements include:

April 2022:
Minor repairs on two headsails
New dodger, re-canvassed bimini and connector (Docril STD, Seaflex Clear PVC)
Added four new Powertech solar panels, totalling 300W (2x100W, 2x50W)
New Powertech MPPT solar charge regulator
Replaced two house batteries (2x105Ah)
Converted ice-box into a 170 L eutectic refrigerator (Eutectic plate from Ozefridge)
Replaced foam in the v-berth mattresses, the saloon settee cushions, and chart table seat cushion
Replaced headliner in the saloon
Origo 6000 2-burner stove, grill and oven; gimbled

2021:
New standing rigging (April)
New engine battery (Apr)
New hatch lenses (Oct)
Heat exchanger acid cleaned and rebuilt (Oct)
New engine water pump (Oct)

2019:
New exhaust mixer elbow (Sept)
Gear, throttle and helm lock sleeves replaced (Sept)
Rudder pintle replaced (Oct)
Windlass removed and serviced (Oct)

Additional Optional Items (not included in price):
Life raft (new May '22) - LRV40, Viking Ocean 4P, ISO 9650-1 in Valise - < 24hr Pack

To book a viewing please contact us.

Features
Yacht Tartan 37 (hull #479 of 485)
Launch Year 1987
Designer Sparkman & Stephens
Builder Tartan Yachts (USA)
Hull Construction Material GRP, balsa-cored with full GRP around all stress points and through-hulls
Hull Type Mono, keel/centre-board w/ rudder on skeg
Draft 1.27 & 2.36 m
Deck Construction Material Fiberglass (GRP)
LOA 11.36 m
LWL 8.7 m (sailing waterline ~10m)
Beam 3.58 m
Beam / Width 3.6 m
Keel Integrated
Displacement 7030kg
Ballast 3400 kg, integrated keel


Propulsion
Engine Single diesel engine, 32 HP, 4 cyl; annually and professionally serviced, last service Oct 2021.
Engine Room Under companionway, insulated, good access from all sides
Engine Make Universal 5432
Engine Number 316182
Propeller Autostream 3-blade feathering propeller (Dec 2017), spare fixed two-blade
Number of Fuel Tanks (Vol) 1 x Aluminium (189 L)

Electrical systems
Number of Batteries 3 (1x105 Ah engine, Apr '21; 2x105Ah house, Apr '22)
Wiring 12V and 240V
Solar panels 2x100 W, 2x50 W, semi-flexible (Apr '22)
Solar Charger Controller Solartech MPPT 50W solar charge controller (Apr '22)
Shore Power Controller Xantrex

Navigation
Ste ering Stainless steel wheel, quadrant, Edson binnacle
Autopilot B&G, hydraulic linear drive (installed 2014)
Instruments Datamarine Depth (original as redundant backup), B&G Triton wind, depth and speed (2014), B&G Zeus Touch 7" chartplotter (2014) at helm, GoFree WiFi module, Compass Ritche, with night light, binnacle mounted
Lights Navigation, anchor, steaming, foredeck

Cabin, galley and head
Number of berths 3 Doubles (v-berth, pilot berth, main cabin settee convers to double), 1 Single
Ventilation 2 coachhouse hatches (new lenses Oct 2021), 9 opening port windows, 2 stainless steel dorades, 2 low extractor cowls in dorade boxes
Stove Origo 6000 2-burner stove, grill and oven; gimbled
Fridge 170 L eutectic fridge (Ozefridge, Apr '22), well insulated
Number of sinks (galley) 2; foot and electric pump
Water (Potable), Capacity (Vol) Two tanks (246 and 95 L)
Number of showers 1 outside, 1 inside
Number of toilets 1
Toilet type Jabsco, marine electric (2021)
Number of sinks (head) 1; electrical pump
Holding tank (Vol) 60 L
Lighting LED throughout
Other items Brass clock, barometer, and gimballed oil lamps
Cabin table Seats 6-8 adults, folds away to provide an open main cabin.

Rigging and canvas
Standing rigging All new in April 2021
Mast Refurbished and repainted 2010
Running rigging All replaced 2010; headsail sheets replaced 2021
Sails Main fully battened, two reefs, near new condition (two days of use)
Furling genoa (c. 130%) - good condition, UV strip
Furling genoa (c. 110%) - good condition, UV strip
Spinnaker radial asymmetric, ATM snuffer, good condition.
Furler Harken, fully dismantled and serviced April 2021
Winches 2 x 27 self-tailing 27 Barient sheet winches
2 x 18 Barient halyard winches, coachhouse roof
1 x 21 Barient self-tailing halyard winch
Winch covers;
3 winch handles
Stanchions and lifelines Stainless stanchions with Dyneema lifelines (Oct '21)
Grab handles Along coachhouse roof and 2 granny bars over dorades
Covers Boom bag
Boom awning, battened, zips onto boom bag
Dodger with covers for clears (Apr '22)
Bimini, canvas replaced (Apr '22), old canvas as spare canvas
Connector for dodger and bimini with zips for side awnings if these were added (Apr '22)

Safety equipment
Anchor winch Muir Windlass VR 1250 removed and professionally serviced 2019), wired remote control at helm in
ScanPod and wireless remote control
Anchor Manson Supreme (Galvanized), 20 kg
Chain 55 m x 8 mm chain
Spare anchor 25 kg CQR
Spare chain/rode 50 m rode, 10 m x 10 mm chain
Dinghy Portabote 10 ft (Dec '17)
Outboard 2 stroke 2hp Yamaha (2018, last serviced May '22)
Lifejackets 4
EPIRB 3EECA35E48FFBFF, Battery expiry Nov 2030
Radio Raymarine Ray49E VHF
Horseshoe life buoy 1, with light
MOB Retrieval Burke Stowbag with Retriever Float Lifesling
Flares 2 Orange smoke, 2 Red hand, expiry Feb 2023
V-sheet 1
Square sheet 1
Sound signal (horn) 1
Fire extinguisher 3
Smoke alarm 1
Bilge Pump Electric + Manual
Boat hook 1
Emergency tiller 1
Fenders 5
Mooring lines 5
Access 1 boarding ladder at rear and two side gates

The information contained within this listing has been compiled by TYBB from information provided by the owner, TYBB accepts no responsibility or liability for any errors or inaccuracies which may appear in this inventory.
---
---
Draft
1.27m up, 2.36m down
Keel / Ballast
Encapsulated
Designer
Sparkman & Stephens NY USA
Builder
Tartan Yachts USA
Hull Material
Fibreglass/GRP
Engine
5432 32 HP, 4 cyl. Professionally service October 2021
---
CONTACT DETAILS
Dealer
Townsville Yacht & Boat Brokerage

Address
Breakwater Marina
Mariners Dv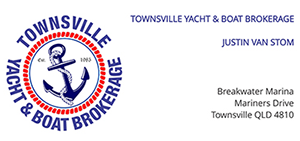 MORE BOATS FROM TOWNSVILLE YACHT & BOAT BROKERAGE