Custom designed and built Trimaran
---
Use
Family, Leisure, Cruising
This beautiful yacht is a credit to her one owner/builder. She was built on Magnetic Island and launched in 2010. Read on to hear the owners journey building and sailing this beautiful trimaran.

"After cruising sailing in both mono's and multi's cat's and tri's, my preference for comfort, safety speed and sea motion, the trimaran was my obvious choice for a vessel under 15m. The design evolved over 20 years of dreaming, and the final result is a combination of the Cross 42, the Crowther Spindrift and Schionning designs. Being a design draftsman in the engineering industry, l had the skills to develop my design comprehensively on computer, and was lucky enough to have professional boat builders as friends to advise as necessary. The general layout mimics to a degree the Cross 42, which was designed specifically for cruising, i. E. Centre cockpit, aft double cabin, wing berths either side of the saloon. I specifically avoided any crawl through companionways and maintained 6' headroom. The mast step was kept out of the way, and yet was placed at the optimum % forward of the centre of gravity/buoyancy and lateral resistance. I chose ¾ sloop rig like Lock Crowther, but unlike his Spindrift design, I kept the mast further aft and improved sailing ability enormously. What l did use was his wing beam shape and general method of construction, although adapted to modern materials. I also angled the amas 10 degrees to the vertical like he did but l increased the bouyancy considerably to 130%.

The overall look was influenced by Schionnings lovely tumble homes on his catamaran hulls. So Bambu is a bit of a design hybrid but l think l got it right, as she looks good, sails like a witch and is a very comfortable cruising trimaran. All three hulls are made from strip planked Western Red Cedar with GRP both sides. The underwater and impact areas have a minimum of 2 layers of 600gsm double bias fibreglass fabric both side, the rest of the hulls and cabin have one layer both sides. Wing beam penetrations through the hulls are reinforced with 2 layers or tri axial fabric. The 4 main beams are made from 18mm Pacific Maple marine ply and WRC, fully glassed inside and out, with 10mm of 1000gsm uni roving wrapped top and bottom/end to end, giving the beam enormous strength, enough to not only support the full weight of the boat on one beam, but 4 times that by impact. All main bulkheads are 18mm Pacific Maple marine ply and fully glassed, minor bulkheads are 15mm and glassed also PM marine ply. In fact all materials are marine ply, and all fittings are 316 stainless steel.

I have used best quality electronics, plumbing etc throughout. My budget was constrained by practicality, not by extravagance. Epoxy resin was chosen over polyester and vinylester, although much more expensive, it has a working life 10+ times that of the cheaper epoxies that most vessels are made of today, giving Bambu a gauranteed working life of 50 years plus. Many yachts today have either a foam or balsa core and have inferior resins, giving them a short life of 10 years, with osmosis and delamination problems. Balsa is particularly prone to rot if water intrusion occurs, and both foam and balsa have softening issue on impact areas. None of these problems affect WRC. Bambu was built over a 10 year period, so attention to detail was never compromised. In fact this build would out perform most professionally built and production vessels. An exhausting period of selection for both the mast and the sail manufacturers took place and l chose the best as the results bear testimony. Allyacht designed the rig to suit the chainplate locations and mast step and general configuration, and Doyle Sails did the rest. The computer generated main hull shape and amas was generated on a program called 'Hull Form'. The rest of the detailing was done on Autocad.


ACCOMODATIONS
o Aft double cabin. Lateral double berth with portlights with mosquito screens each end. Caframo Sirrocco 12v fan, 2 x led reading lights. 2m standing headroom in main and aft cabins. Ample storage and dresser with vanity mirror. 1x22" Kogan TV. 2 fans, 1 tower fan, 4 opening portlights with mosquito screens.
Solar day/night exhaust fan, main led ceiling light. 1 small fire extinguisher. ICOM M710 HF. Carpet throughout.
Bathroom.
o Thetford Excelsior portable toilet. Therefore no holding tank. As there are limited if any pump out stations, this avoids dump runs and the usual breakdowns with most marine built in toilets, and consequently there are no through hull fittings.
Shower from mains or on board water tank, drains to 12v sump with auto sump pump.
220v HWS.
Hand basin with hot and cold taps.
Shower room also houses Waeco 60l fridge. Removable work bench and vise. There are 2 fixed portlights, 1 solar vent and one circular hatch for sail deployment. 4 inbuilt storage lockers. 2 Caframo fans and 2 led lights. Access to sail locker and chain locker. 1xdouble 220v power outlet. Courtesy lights in sail locker and head.
1 x work bench and vise.

SALOON.
o Butterfly table, table can be dropped for extra sleeping if required. 2m standing headroom, with 4 soft light led over table. Led lights can be dimmed. 2 large overhead hatches with screens. 1 x 22" 12v TV. With 2 external speakers. 4 opening portlights with screens. 2 x Caframo Sirocco fans. Bi fold companionway door to head.
Bench seating for 6+. Storage under.
1 floor fan and floor heater.
Access to wing berths from saloon. Courtesy lights in saloon.
Wing berths have overhead hatches and opening portlights all with screens and Caframo Sirocco fans. There is a built in storage locker and shelving in both berths. Floor is cork tiled with Pacific Maple trim around floor hatches 1 hatch to water tank. Water tank is baffled with top hat lid, and screw in clear lens inspection lid. Hatch 2 is to bilge, currently used for wine storage. Bilge pump, flux gate compass.
One first aid kit.
One ships sewing kit with many accessories
Galley/Navigation station.
o Galley is to port. Floor is cork tiled. Overhead mushroom vent and opening port over cooking area. 2 x 220v portable induction hobs. 3 x Plastimo gas hobs. Gas alarm. Smoke alarm.
Microwave oven, electric kettle, toaster. Led lights under shelves and overhead, plus fans.
U shaped bench with drawers and storage under. Shelves over. SS sink with hot and cold water. Sink drains to outboard. Scrap chute to outboard built in. Also salt water pump tap. Isotherm drawer style fridge under. Hatch to fuel tank #2.2 x double 220v outlets.
2 x 18 litre full gas tanks in wing deck locker. 1 x Icom portable hand held 2 way radio.
1 x 2. Kg Co2 fire extinguisher
1 x 2 kg powder fire extinguisher.
Navigation to starboard. Mushroom vent. Portlight and led and fan.
Chart table with chart storage under. Red map light.
Weems and Plath barometer and tide clock.
Raymarine VHF. GPS, HDMI cable to computer. GME CD and radio.
Lockable Blue Seas Main Distribution panel. 22 circuit breakers Xantrex battery monitor,
Davtron chronometer, weather station, 2 x auxillary panels. Ergonomic nav' seat. 1 x 2.7lt powder fire extinguisher, 1 x 2 lt CO2 fire extinguisher. Epirb. 1 x 12v auxiliary socket. Lockable security drawer. Floor Hatch to fuel tank #1.1 x220v double power outlet and main 220v ELCB. 1 x 12v aux' socket, 1 x 12v cigarette aux' socket.
Light sensor switch for anchor light.
Access to engine room under companionway steps. 1 x air horn.

COCKPIT
Lewmar bulkhead steering. Cable to quadrant. Quadrant mounted Raymarine autopilot. Bench seating with storage under inc' built in ice box that drains to scuppers.
Captains helm seat, demountable and stowable.
Demountable and stowable cockpit table.
Lewmar gear/ throttle lever.
Raymarine wind, log and autopilot. Widescreen chart plotter.
Yanmar engine instruments.
Magnetic compass with red/green led night lights.
Remote VHF Raymarine radio microphone jack and speaker.
2 AM/FM speakers.
1 x Whale gusher pump with hose and handle. 1 x 220v high volume pool pump and hose.
2 boat hooks. 1 fish gaff.
2 x Led red/white mood lights, 2 x red courtesy lights.
Headsail Sheet wells built in.
6 x spinlock clutches, 1 x Andersen self tailing SS #28 mainsheet winch.
2 x Andersen self tailing SS # 32 primary winches.
1 x SS main traveller winch. Winch handles for all winches.
Heavy duty tinted clears all round, with 6 zipped roll up windows.
Access hatch to engine room on cockpit floor, with block and tackle hanging point inside hardtop roof. Hardtop roof also doubles as fresh water catchment, and there are 4 polycarbonate sail viewing ports built in.
Both cockpit doors to main and aft cabin are lift off, and have hinged poly' windows for ventilation and communication.
There is a demountable helm seat, and a demountable cockpit table. Cockpit scuppers each side.
Under seat storage lockers.
1 x Winch Mate battery powered halyard winch.
Hatch to engine room through floor

ENGINE ROOM.
Yanmar 3JH4 Sail Drive, with 18" folding Gori propellor.
Mastervolt Smart Battery Charger. 220 V on / off separate switch. 2 x Mastervolt 160 a/h AGM Batteries. Isolation switches to both. Xantrex smart charger from alternator.
220 V double powerpoint
220 V 12V relay for Smart Charger.
1 x 12 V bilge pump.
Fuel return and tank selection, shut off, and drain cocks. Port side deck locker houses exhaust vent hose and motor. Stb side deck locker houses fresh air inlet hose.
Aft Cabin
Waterlock under floor beneath aft companionway steps.
Rudder steering shaft with Lewmar Quadrant, auto pilot and
associated cables and wiring.
HF Radio
HF Radio Tuner and 'Ladder' type aerial.
Main HF aerial, halyard type.
Engine exhaust piping, goose neck and exit.

Storage area incorporated in main aft beam housing for cockpit doors and cockpit main cabin companionway hatch cover.

ANCHOR LOCKER.
1 x 1500 12V Quick windlass
1 x Sarca Excel plough anchor, rigged with 50ft chain 1 x Manson CQR, rigged, with 50ft chain
1 x large folding Grapnel
2 x 100m x25mm nylon anchor warp.

CHAIN LOCKER
1 X 100m 25mm nylon warp. 1 x MPS/ Gennaker unused 1 x Storm Staysail u used.

SAFETY.
Wichard Jack lines. Port and Stb.
2 x Wichard double clip retactable safety lines. 4 x safety harnesses.
2 x PFD.
8 life jackets.
1 x Burke Bosuns Chair.
2 x Burke horseshoe floats with line and lights. 1 x Dan buoy with light.
Flares ( some out of date )
1 x emergency tiller.
1 x Hathaway drogue.
2 x 25mm x 100m nylon warps
Other required safety equipment.
1 x personal EPIRB.

MISCELLANEOUS.
Numerous spare parts.
1 x starter motor
1 x alternator belt.
1 x sun tent for main cabin.
1 x set new Sunbrella saloon upholstery covers. Huge number or 316 nuts, bolts, screws etc. Electrical repair kit, inc' multimeter.
1 x Torqeedo electric outboard motor. 1 x brand new unused Tak-a-cat dinghy 1 x 12V portable deck wash.
Spare fenders
1 x new step fender
4 x new Dorade hoods
Fishing rods and tackle
Mud Crab instant dispatcher.
2 x Dinghy anchors and line.
Variety of tools manual and electric.
Many meters of spare docking line and braid.
Full set of signal flags
1 x Australian ensign.
PUR Watermaker.
1 x trolling/down caster rig
1 x set folding plastic steps for lower mast access. 1 x folding aluminium trolley.
1 x hand held underwater viewer.
1 x hand operated clothes washer.
1 x Passerelle
1 x telescopic boarding ladder.
2 x full length sail battens stored in sail bag.

Townsville Yacht & Boat Brokerage has been providing yacht, boat, berth, insurance, valuations maintenance, charter and delivery services since 1985. We cover all of Australia.
---
---
---
CONTACT DETAILS
Broker / Dealer
Townsville Yacht & Boat Brokerage

Address
Breakwater Marina
Mariners Dv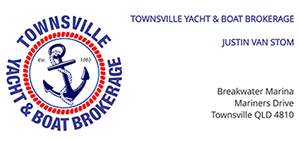 View all boats for sale by this dealer