A SMART way to enjoy an incredible new Lagoon
---
Go Back to Newsfeed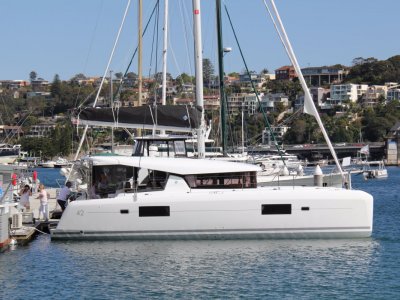 In November 2017, SMART BOATING doubled down on its investment in Lagoon catamarans with the purchase of two brand new boats in partnership with The Multihull Group - a brand new Lagoon 40 and Lagoon 42.
With the purchase of these two additional Lagoons for delivery in 2018, SMART BOATING'S customers have access to the very best catamarans on the market.
The head-turning Lagoon 40 is already making waves after its unveiling at The Cannes Yachting Festival in September. The 40 showcases the synergy of Lagoon's innovation and expertise… and features a stunning visual identity.
The spacious and top performing 42 is a breeze to sail and is already a favourite with SMART BOATING's customers. The additional model in the fleet will serve to meet the growing demand for families looking to enjoy a more affordable boating lifestyle.
"The world leading product and unbeatable after-sales service offered by TMG were key in our decision to purchase two more Lagoons. " says SMART BOATING'S Martin Lyall.
SMART BOATING now boasts upwards of $3 million worth of Lagoon catamarans on their books.
TMG's Managing Director John Cowpe is delighted with the growing partnership with SMART BOATING.
"SMART BOATING has a fantastic product. The growth of the sharing economy means that more people are looking for a different way to own a boat and experience life out on the water. Owning a share in a SMART BOATING syndicate is a more affordable and accessible way to achieve that. For a 10% share you get 100% of the boat when onboard. "
To find out more, read the blog here, contact TMG on 1300 175 325