Electric Boat Manufacturer RAND Introduces The Breeze 20
---
Go Back to Newsfeed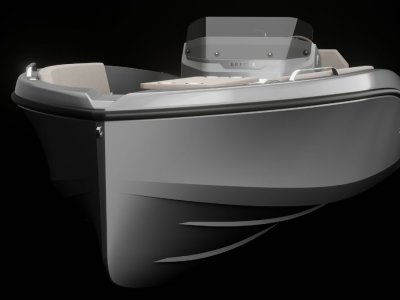 RAND, the luxury boat manufacturer best known for providing electric boat options on all their models, is excited to announce the launch of their latest vessel, the RAND Breeze 20.This revolutionary boat boasts a groundbreaking eco-boating design that allows for effortless cruising without compromising functionality, comfort, or performance.
At the heart of the RAND Breeze 20 is a clever layout centred around a picnic table that transforms into a sunbed and a flipping pilot backrest, massive storage rooms, an integrated fridge, and a hidden bimini top. These features make the Rand Breeze 20 highly adaptable to the needs of all boaters.
Available in both electric and petrol versions, the 20-foot boat offers an impressive 20 hours of power on a full battery, with a 4 knots average cruising speed and a 10 knots top speed. The 115 HP Outboard Petrol engine provides a topspeed of 30+ knots so it can easily be used for planing speed and watersports.
The Rand Breeze 20 is an excellent choice for electric propulsion, thanks to its lightweight construction and hyper-efficient hull design. This provides benefits such as low running costs, minimal maintenance requirements, the silence of an electric engine, and the lack of offensive fume smells.
Designed for socialexperiences, the Rand Breeze 20 can accommodate up to eight people.The main social hangout area is located in the bow, and the aft provides seating space for two, where the pilot backrest can be flipped for more space. The central area can easily be transformed into a large sunbed by lowering the picnic table, while the built-in swim ladder and towing mounts are part of the aft sun lounge, giving easy access for watersports and jumping in the water.
As an added bonus, the Rand Breeze 20 can be trailered behind any car, making it easy to transport from place to place.The Rand Breeze 20 is the ideal electric boat for Australia and New Zealand; we cannot wait to bring this ground-breaking 20-foot dayboat down under.
"We are thrilled to introduce the Rand Breeze 20to Australia and New Zealand. With its high functionality, adaptable layout, and social experience-focused features, we are confident that this boat will provide a unique cruising experience like no other," said PeterHrones, Eyachts Managing Director.
For more information about the Rand Breeze 20, contact the team at boats@eyachts.com.au.