Expansion continues for Whitehaven and Integrity Motor Yachts with Spectrum Marine
---
Go Back to Newsfeed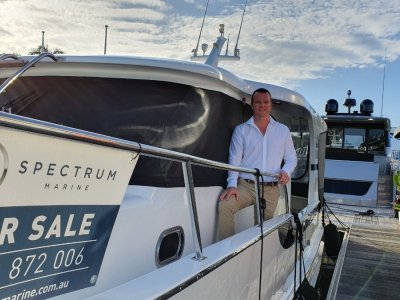 Gold Coast, Australia: As an evolution of the business, the group behind the successful Whitehaven and Integrity Motor Yachts brands have expanded in brokerage with Spectrum Marine.
Spectrum Marine will act as sales agents for any motivated owner seeking to sell their boat and, in direct response to the boat ownership path, will tend to the brokerage and service needs of Whitehaven and Integrity Motor Yachts' clients.
Based at Sanctuary Cove, Spectrum Marine offers sales and marketing of boats backed up by the boat building, production, design, and engineering expertise of the parent company to service clients throughout Australia. Moving from traditional boat inspections, customers will have the option of virtual inspections and access to the team to prepare their boats for extended cruising.
Additionally, the brokerage house will also retain the Queensland Integrity Motor Yachts' dealership as Sanctuary Cove is the original home of the brand in Australia and has historically been one of the highest performing locations.
Bruce Scott, managing director of the group, is a long-term boat owner who made the successful transition into custom boat building through launching the Whitehaven Motor Yachts brand in Australia in 2012. Capitalising on the design and production prowess of the Whitehaven team, Scott saw an opportunity to expand into distributing the Integrity brand in Australia, New Zealand, Thailand, and northwest America. In doing so, the team has made a myriad of improvements to the design and production quality of the Integrity range of full displacement recreational boats. Now, with a significant number of boats in the field, the group has expanded into brokerage.
Scott explains the expansion, "We were increasingly accepting trade-ins and assisting people selling their existing boat before taking delivery of their new Whitehaven or Integrity Motor Yacht. We saw Spectrum Marine as the next logical step in the group's growth and service offering