FIRST AXOPAR 37 REVOLUTION HAS LANDED EYACHTS IS CELEBRATING 100 AXOPARS DOWNUNDER
---
Go Back to Newsfeed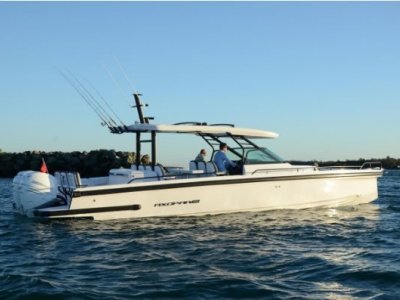 Just 4 short years ago Axopar was in its first year of production, not much was known about
this small and niche company, but Eyachts saw potential... Now in 2020 Eyachts are
celebrating 100 Axopars sold downunder with the launch of the new and improved flagship,
the Axopar 37 Revolution.
"If you told someone back then that day boats would be as popular as they are now they
wouldn't have believed you. However, I could see that people would learn to love these type
of boats, well before their time. I knew people would want the ease of maintenance and a
versatile boat with the ability to go offshore whale watching, visit waterfront restaurants or
simply enjoy time out of the water with the family whether you are fishing, wakeboarding or
just anchored in a secluded bay or beach having a picnic and watching the world go by. The
Axopar offers something for everyone in a cool simplistic package….. I am so proud of how
far Axopar have come so quickly and this is thanks to our proud but also very enthusiastic
Axopar owners feedback and a young Axopar team that listens."  Peter Hrones, Eyachts
Managing Director.
With the first Axopar 37 X Sun Top currently in Queensland, Rowan has been taking people
on virtual and private tours of the vessel to show off all 380 improvements; from the
redesigned hull which promotes increased speed and range to the innovative new gull wing
doors and separate head layout.
"We took it offshore, we did everything this boats supposed to do and I can definitely attest
this boat handles like a dream. It distinctively runs a lot more bow down. It drives differently
to the series 1, all for the better! We hit 53kts, it was phenomenal and there's still going to
be a little bit more in there once the engines break in. Nothing compares to an Axopar. I've
definitely got to say, series 2, two thumbs up, well done team Axopar." Queensland
Manager, Rowan McMahon
For the first time Eyachts is completely out of stock and have now presold 4 Axopar 37
Revoluti