Flagstaff Marine to represent Monte Carlo in NSW and QLD
---
Go Back to Newsfeed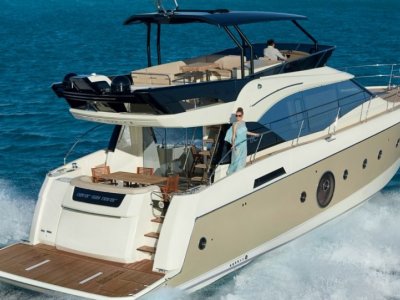 Flagstaff Marine are delighted to announce that they have been appointed as the NSW and
QLD exclusive importers of the luxury Beneteau Monte Carlo line of powerboats.
Beneteau motor yachts and the Monte Carlo range are hugely popular in Europe and the
USA with a longstanding reputation for offering a smooth ride, high end finishes and great
value. The Beneteau power range is now becoming increasingly popular in Australia as
brand awareness grows. The addition of Monte Carlo reflects the direction Flagstaff Marine
are taking in 2018 and beyond.
Flagstaff Marine Co-Director Graham Raspass says:
"With Monte Carlo, the Beneteau Group has set a new standard in high end, luxury,
production mid-size cruising motor yachts. The award winning Monte Carlo range offers
exceptional space from which to entertain and enjoy our fabulous Australian waterways.
Each vessel offers the latest technology, connectivity and amenities to make it perfect for
both cruising and corporate entertaining. "
Monte Carlo powerboats are easy to manoeuvre and handle, and have an exhilarating top
speed. Owners enjoy a level of comfort and quality second to none. The range is
characterised by a distinct wave cutter hull and an abundance of living space and its
customisable interior.
"The Monte Carlo 6 won the prestigious 'Boat of the Year' in the Flybridge Power boat up to
60 foot category. The sleek hull and superstructure are shapely and reflect the MC lines and
ultra-modern French and Italian styling, " says Flagstaff's co-director Micah Lane. "We are
delighted that Beneteau have produced a powerboat that offers new solutions and opens the
door to a new level of luxury. "
The Flagstaff Marine team will be on the marina at the Sanctuary Cove Boat Show to
provide further details of the Monte Carlo range and will showcase the Monte Carlo at this
year's Sydney International Boat Show.
Phone Graham or Micah 1300 998 662
enquiries@flagstaffmarine. Com. Au