INTRODUCING THE AXOPAR 22
---
Go Back to Newsfeed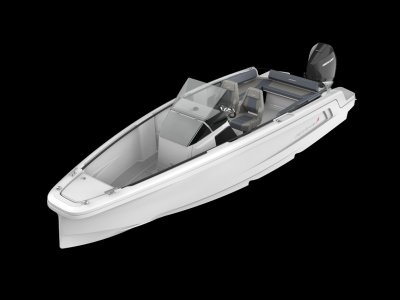 AXOPAR'S WINNING FORMULA - ALL FUSED INTO A 22 FOOTER
LAUNCHING SEPTEMBER 2020
Axopar have already proven to the public that their formula works and Eyachts believe this is the ideal vessel for our Aussie Axopar fans to get the drivers boat they have always wanted, fun sized! This is the Axopar for boaters who want the ease which comes from owning a trailerable vessel, for those who just want EPIC days out on the water!
Superior, to many boats out there, the cool-looking Axopar 22 will be a true driver's boat. Sticking with Axopars DNA, the twin stepped hull and cutting bow offer first - in- class handling, seaworthiness, offshore capability and safety, combined with the efficiency and comfort that its bigger 28ft an d 37ft siblings are renowned for. This high quality build and design means the new Axopar 22 is certified by NMMA ABYC standards, and Den Norske Veritas, (DNV) one of the most stringent observers there is in leisure boating in Europe.
This new model is notgoing to be like other 22 footers on the market, hosting up to 7 people with comfortable seating, safe walkaround capability and the luxury of a separate toilet. In true Axopar style the 22 will be extremely versatile to suit any owner, whether you want to do extreme water sports like wakeboarding and waterskiing, take the kids out donuting, go offshore fishing with your mates or just have a relaxing swim at your favourite beach, this
vessel will do it all. A smart boat that packs a punch and will turn heads wherever you go, and all without
breaking the bank!
Axopar want their customer's experience of boating to be a good one, so we have designed a hull that is safe, stable, and unintimidating, but at the same time fun, comfortable, thrilling and rewarding to drive. By implementing a classic Axopar hull in a smaller size, the outcome is a boat that is easy to manoeuvre in tight spaces with minimum windage impact.