Launch of Riva 88' Folgore: just back from a journey into the future.
---
Go Back to Newsfeed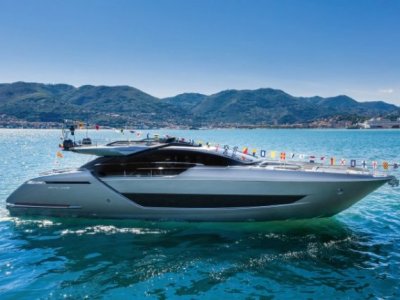 The new Riva masterpiece made its first dip in the sea at the La Spezia shipyard.
Symbol of strength and innovation, she is the first new model to be launched by the Shipyard in 2020.
La Spezia, 26th of May 2020 – Splendid and dazzling as its name implies, Riva 88' Folgore immediately won the hearts and minds of those who saw it cut through the waves.
The most eagerly awaited vessel by Riva enthusiasts was launched on Monday, 25th May in La Spezia, where the production facility dedicated to the 76-to-110-foot models is based.
It is the first launch of a new Riva model at the time of Covid-19 and celebrates the non-stop activity of all shipyards, confirming Ferretti Group in its role as a tenacious and solid builder of dreams and emotions.
"Riva 88' Folgore looks like a vessel just back from a journey into the future: she is a dazzling flash of style, she is strength, she is performance, she is innovation." – Commented Alberto Galassi, CEO of Ferretti Group. "The launch of the first new model in 2020 represents a new Renaissance for the Ferretti Group, which restarts from Riva, brand becoming more and more a contemporary myth, the essence of Made in Italy and a tangible sign of a Country that starts again."
Riva 88' Folgore, the project of which was presented in January, perfectly complied with the deadline set for the construction time.
The new exterior design philosophy displays lines and elements inspired by the automotive world, combining luxury and sportiness.
In a happy balance between past and present, it combines the use of innovative materials like carbon with traditional stylistic elements such as mahogany inlays and steel decorations.
Ray White Marine info@raywhitemarine.com