New Beneteau First 36 On Display At D'Albora Marina, Rushcutters Bay April 1st 2023.
---
Go Back to Newsfeed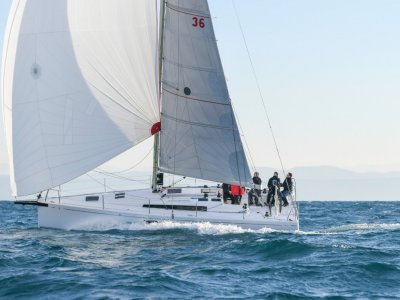 The new Beneteau First 36 - has just arrived and definitely worth the wait
The Beneteau brand has been the world's most popular cruiser racer brand since its inception in 1974 providing sailors with beautiful, fast, fun sailing yachts that are always a pleasure to cruise as well.
The new First 36 fills the gap perfectly between the sports boat style First 14,18,24 and 27 that provide exhilarating planing performance with overnighting capability and the more conventional Beneteau First offering that has won most of the trophies on offer, all around the world, in the most demanding, highly competitive yacht races, that are always stylish and well-appointed for cruising with family and friends. After a hiatus away, Beneteau knew they had to produce something very special to re enter the market in this category and they have nailed it in the first 36 winning every major award in the yachting scene and securing around 100 orders in its first year on the market.
We'll be showing her to the public this Saturday the 1st of Aril in front of our office at D'Alobora Marina, Rushcutters Bay Sydney. Along with the new gran Turismo 32, Lomac Turismo 660 and Excess 12 catamaran which is available through our Jo Boating Syndication program.
Come down and visit or contact our team for more information.
1300 998 662
sales@flagstaffmarine. Com. Au
www. Flagstaffmarine. Com. Au
www. Joboating. Com. Au