POWERPLAY LUXURY CATS appoints exclusive Australian dealer
---
Go Back to Newsfeed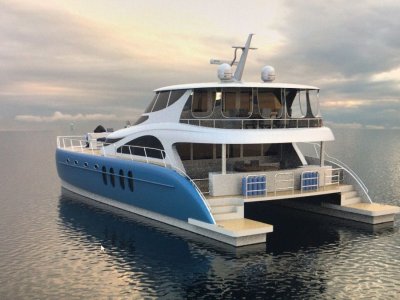 Established in Townsville in 2000 by award-winning boat builder and designer, James Dewing,
Powerplay Catamarans span models from 15m to 25m. Today, based in Thailand, Powerplay cats are
renowned for their quality, economical composite construction, elegant aesthetics and high-speed
performance.
A name well-known in the international boat building realm, James Dewing has more than 40 years'
experience. He is acclaimed for his unique, modern designs for commercial and recreational models
in demand by discerning yachties in Asia, Europe, Australia, New Zealand, the Caribbean, Bahamas and the US, popular with the charter market and seasoned sailors looking for more time
enjoying anchorages than reading the weather and waiting for the right winds!
"There's nothing like them on the market, " stated Hurricane Boats Australia Director, Brett Flanagan. "Big, flybridge power cats with jacuzzis and all the extras as standard. "For example, the master stateroom is forward of the saloon and takes up the whole front of the boat, wrapped in glass for fantastic views. "Powerplay are brilliantly built, semi-custom power cats that deliver more volume, range and higher speeds for your dollar.
"Being composite construction to CE class one offshore certification as standard, they are
lightweight and balanced, stable and travel through the water like a dart. "
Company founder and lead designer, James Dewing said his background in service and refit
compelled him to dedicate his career to building premium multihulls.
"Powerplay is able to design, any layout required, from budget accommodation to the lavish
interiors associated with the luxury charter industry, from a white-walled Hamptons-style finish,
right up to the high-polished bespoke timberwork. The choice is yours. "
Brett Flanagan 0414 997 654
Grant Flanagan 0402 811 175