R Marine Sydney - Highlights of our Hawkesbury River Weekend at Peats Bite
---
Go Back to Newsfeed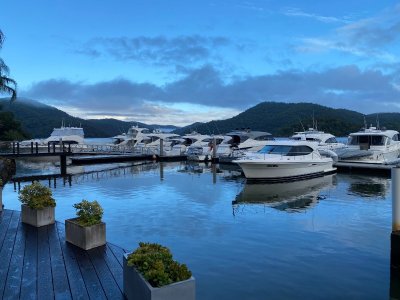 After a week of wet weather, Saturday morning favoured us with sunshine and bright skies at the Sydney Superyacht Yacht Marina for our weekend departure headed to Peats Bite, an iconic water access only restaurant on the Hawkesbury River.
Our flagship Riviera 72 Sports Motor Yacht lead the way for the 2 hour journey. Family member of this magnificent vessel – Callum Rodgers of Crog Films, captured aerial drone footage of our fleet who joined us from four different locations .
Despite a brief change back to wet weather, it was a relatively smooth journey and we reached our meeting place with the rest of the fleet near Brooklyn Bridge in clearer conditions.
Click on link below to continue to read