SCIBS Anchored In Premium Boating & Luxury Lifestyle Offering
---
Go Back to Newsfeed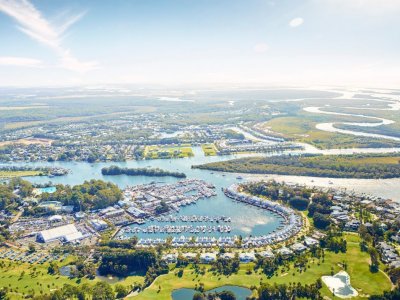 The highly anticipated 2021 Sanctuary Cove International Boat Show (SCIBS) is gearing up to be one of the biggest in
recent history, with a stellar fleet of high-calibre Australian and international brands converging on the Gold Coast from May
20 to 23.
Celebrating its 32nd edition, the southern hemisphere's premier marine event will host impressive on-water displays from
prestigious brands such as Maritimo, Horizon Yacht, Palm Beach Motor Yachts, Grand Banks, Riviera, Sunseeker, Azimut,
Princess Yachts, Integrity Motor Yachts, Whitehaven Motor Yachts, Ocean Alexander, Fleming, Lagoon, Beneteau,
Jeanneau, Leopard and Prestige Yachts.
Major marques will feel right at home in the world-class Sanctuary Cove Marina, which recently underwent a $10 million
redevelopment including the addition of a superyacht arm, and was awarded Platinum Gold Anchor accreditation by the
Marina Industries Association (MIA), making it one of only eight marinas worldwide to be recognised with such status.
In line with this year's premium showcase, SCIBS will be offering a range of new VIP experiences tailored to the hundreds
of exhibitors and more than 45,000 visitors who may be interested in exploring the boating lifestyle in lavish style.
Overlooking the new Superyacht Marina arm and Lagoon Pool at the InterContinental Sanctuary Cove Resort, The Lagoon
Lounge offers the ultimate experience for visitors looking to soak up everything SCIBS has to offer in luxurious style, while
surveying world-class superyachts available for charter or sale. Meanwhile, Captains of vessels over 28 metres can engage
with colleagues and industry representatives at The Captains Lounge.
Visitors can expect to see an exceptional line-up of multi-million-dollar superyachts following the Federal Government's
announcement of quarantine-free access for vessels and passengers travelling from New Zealand.
SCIBS general manager Johan Hasser said the quality and stature of this year's Show is exceptional.
"To have a significant congregation of the world's leading brands together at SCIBS is a great vote of confidence for the
industry and we know visitors will be impressed by the quality and diversity of boats on display across every category," Mr
Hasser said.
"There's no doubt that 2021 is shaping up to be one of our biggest Shows, not only in terms of the sheer number of boats
and the quality of exhibitors we continue to attract, but also when looking at the expanded footprint and the number of
visitors expected through the gates.
"2019 was a very successful event, and saw $336 million injected into the local economy. We anticipate this figure will be
even higher this year as families swap the traditional summer European getaway for their own luxury watercraft.
Local experts in design and luxury, Maritimo, has announced that the brand will host the worldwide launches of two
spectacular new motor yachts – the M55 and the S55 – at SCIBS.
"We are extremely excited to be globally launching two groundbreaking new vessels, combined with our other M-Series and
X-Series models," Maritimo's director of design Tom Barry-Cotter said.
"After a virtual launch in 2020, the new M55 Flybridge is set to be the most anticipated global launch for Maritimo to date.
Guests at the Show will be among the first to step aboard the long awaited sensational new flybridge motor yacht.
"Also set for its global launch is the latest addition to the internationally acclaimed S-Series sedan motor yacht range, with
the first international showcasing of the stunning new S55 Sedan Motor Yacht."
Luxury yacht builder Horizon is also planning an impressive showcase this year, with plans to officially unveil the Horizon
FD87 Skyline at this year's Show.
"The model, which is one of the most popular Horizon models to date, is a special edition Cor D Rover Design," Horizon
Yacht Australia's director Mark Western said.
"At an overall length of 90' and a 23' 3" beam, the enclosed sky lounge features an on-deck master stateroom, High
Performance Piercing bow and hull design, tremendous interior volume, helipad on the roof and heated jacuzzi on the bow.
"The team is excited to showcase our quality products and to catch up with our customers on a business and personal level.
We often have interstate clients popping in to see us at big events like SCIBS, so it's a great opportunity for us to catch up
with them and share the latest updates from Horizon."
From Palm Beach Motor Yachts comes the debut of the impressive GT60, which is set to become the new flagship model of
the brand's modern sports line-up.
"As well as launching the GT60, Grand Banks Yachts will be bringing the GB60 long-distance cruiser to SCIBS, showcasing
the most fuel-efficient model in its class, capable of speeds in the mid-thirties and a cruising range of around 2,000 nautical
miles at 10 knots," Palm Beach Motor Yachts' creative director Joel Butler said.
"We were all devastated last year with the Show's cancellation, as I'm sure many exhibitors and visitors were too. The
camaraderie and competition in the Australian marine industry is first class, and we love showing off our new designs and
innovations, just as much as learning about what others in the industry are doing."
Stepping into its 32nd edition, SCIBS is a marine industry staple, annually building on its international reputation to display
some of the world's finest vessels and products each year.
To secure one of the last exhibitor spaces or to purchase your tickets, visit www.sanctuarycoveboatshow.com.au.
Running from 20 to 23 May 2021, the Sanctuary Cove International Boat Show attracts more than 45,000 visitors
and 330 exhibitors to a spectacular showcase featuring hundreds of boats and thousands of marine products
across four days.
For more information, please contact contactus@sanctuarycoveboatshow.com.au.