Sirena Yachts Upsizes And Unveils Brand New Superyacht Line
---
Go Back to Newsfeed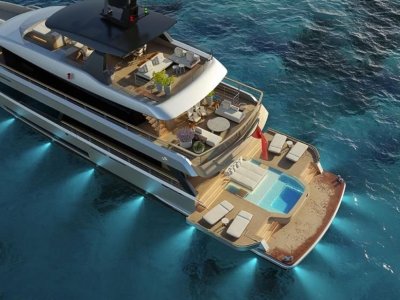 Eyachts, a leading provider of luxury yachting experiences in Australia and New Zealand, is proud to announce the launch of the Sirena Superyachtline. These stunning vessels offer the ultimate in elegance, comfort, and unforgettable experiences on the water.
Crafted from the highest-quality materials, each Sirena Superyacht is designed to provide anexceptional yachting experience. The line includes three models, measuring 35, 42, and 50 meters, all designed to offer ample space for socializing and relaxation.
The Sirena Superyacht line boasts eye-catching exteriors designed by Italian designer Luca Vallebona and naval architecture by Van Oossanen Naval Architects from the Netherlands. Every detail has been thoughtfully considered to ensure that these yachts are not only beautiful but also functional and reliable.
"The Sirena's superyachts will be sporty, elegant and offer large open spaces", said LucaVallebona. "I would like to underline two references to the past that I used for the concepts. The first one is the use of words like patio and pergola that come straight from the classic Latin age, as I am fascinated with the architecture. The other one is the bottom line of the main deck side window that can be seen as nothing else than a sheerline of a beautiful JClass, a timeless symbol of luxury and sportiness."
Customizable interior designs allow owners to tailor each vessel to their unique style and preferences. The innovative layout of each vessel reflects an unwavering focus on the owner's privacy and comfort, with thoughtfully designed spaces that allow for relaxation and tranquility.
Fold-out wing decks, multi-level gathering spaces equipped with plunge pools and sun pads,and carefully designed deck areas ensure safe and convenient access for both crew and guests. Whether hosting a party or enjoying a quiet moment with loved ones, Sirena Superyachts provide the perfect setting for unforgettable experiences on the water.
"Sirena has been overwhelmed with gratitude for the response that our customers the world over have unfailingly provided as each new model has been introduced. From the Sirena 58 to the Sirena 88, the Sirena 68, and Sirena78, our goal has been to provide yachts that exceed expectations in every size category in which we build. We are now ready to take the next step, which is why we are pushing beyond the 100-foot threshold," says SirenaYachts' Chairwoman and President IpekKiraç.
"We invite you to experience the luxury and sophistication of the Sirena Superyacht for yourself," said Peter Hrones, Eyachts Managing Director. For more information about Sirena Superyachts, visit Eyachts website.. or contact the team at boats@eyachts.com.au