Sundance Marine Sells NEW PRESTIGE X70 To Australia.
---
Go Back to Newsfeed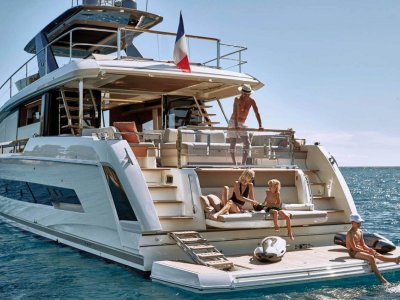 After debuting at the Boot Dusseldorf boat show 12 months ago the PRESTIGE X70 has made its way into the American, European and Asian markets. David Beck, Australian Nationwide Dealer for Prestige has sold the X70 into Australia with delivery expected in early 2022.
"Selling the PRESTIGE X70 into Australia within 12 months of its release has been an exciting moment for the team at Sundance Marine. With limited show opportunities due to COVID, the trust our customers have in PRESTIGE Yachts is remarkable" – David Beck.
The X70 oozes superyacht class in 70ft which is a significant achievement of the PRESTIGE shipyard and GARONNI DESIGN signature. A key highlight of the X70 is its considered layout that combines entertaining and privacy in one. Access to the owner's full-beam cabin is provided through a private staircase, with Guest and VIP cabins also benefiting from their own private entrance.
Blending the exterior and interior into one, the 50/50 balance is a forward-thinking approach to traditional flybridge designs. With a cockpit that is 3 times larger than anything on the market, you can expect sun-drenched, soft whispered European luxury that PRESTIGE is known for.
Ready to experience the PRESTIGE lifestyle? Sundance Marine is proud to be the Australia wide dealer for PRESTIGE. Get in touch with Sundance Marine through our website at www. Sundancemarine. Com. Au or 1300 550 089.