TMG Announces Two New Members of the Dragonfly Trimaran Family
---
Go Back to Newsfeed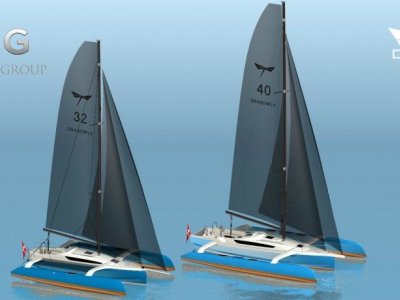 One of Australia's leading multihull specialists, TMG (The Multihull Group), is delighted to announce the addition of two brand new members to the award-winning Dragonfly trimaran family.
Dragonfly trimarans are instantly recognisable both at sea and at berth for their revolutionary Swing Wing system and are enjoyed by sailors all around the world. The Dragonfly 32 Evolution and the Dragonfly 40 are the stunning outcome of Dragonfly's investment in over 50 years of building hand-crafted, high-performance, state-of-the art cruising and racing trimarans.
The new DRAGONFLY 32 EVOLUTION is an exciting evolution of the popular Dragonfly 32 Supreme model, featuring new high-volume wave piercing floats for fast and relaxed sailing.
This new float design improves the Dragonfly's performance in stronger wind and wave conditions, expanding its offshore capabilities.
Whilst the NEW Dragonfly 32 Evolution replaces the former Dragonfly 32 Supreme, the Dragonfly 32 Touring version will remain part of the Dragonfly 32 line-up.
The brand new DRAGONFLY 40 is the largest Dragonfly model ever built and becomes the flagship model for the brand.
Designed for sailing trimaran enthusiasts, with its cutting edge design, focus on easy handling and shorthanded sailing, the Dragonfly 40 sets new standards for fast, comfortable and safe
family offshore sailing.
The spacious cockpit is designed to provide everything you need when sailing and spending days on the water with family and friends. Down below, the well-known Dragonfly style creates a stylish and modern interior.